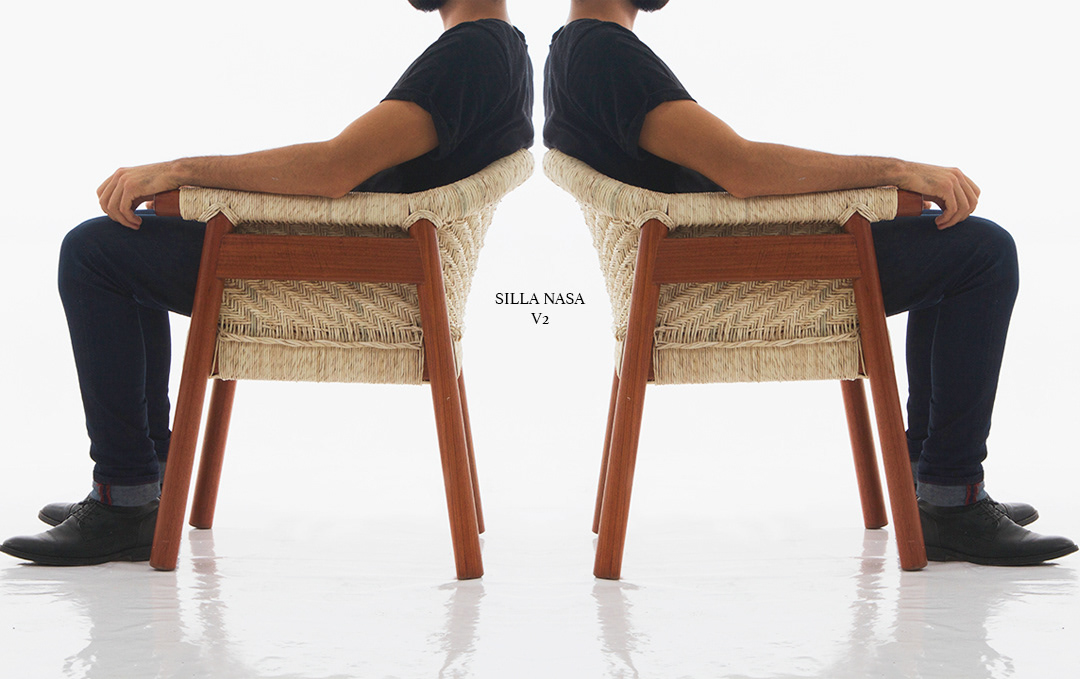 Cuando una persona transmite su trabajo a través de sus manos es muy difícil hacer el mismo movimiento dos veces, esto se puede volver algo imposible pero no necesariamente frustrante. Una artesanía es uno de estos movimientos únicos, sólo se puede hacer una vez. Es posible repetir un proceso pero el resultado siempre será diferente, eso es lo que lo hace tan especial.
Esta segunda versión fue tejida con palma natural en combinación con madera de Tzalam; la silla conserva el proceso natural de esta hermosa técnica pero ofrece comodidad y estética al mismo tiempo. Un proceso industrial también se puede traducir en algo más personal y único, eso es lo que significa la Silla Nasa V2.
Pienso que voltear hacia atrás y utilizar nuestras raíces, tradiciones y artesanías son una buena herramienta para generar nuevas formas e historias que nos representen; es nuestra identidad y hay que estar orgullosos de ella.
La Silla Nasa V2 fue desarrollada en colaboración con el artesano de palma Ceferino en Guadalajara, Jalisco.
When a person transmits his/her work with his/her hands it's very difficult to make the same movement twice, even trying the most specific recreation of the same action turns into something impossible but not necessarily frustrating.
A handcraft is one of this unique movements, can only be done once. It´s possible to repeat a process but the result will always be different, that's what makes it so special.
This second version was webbed with natural palm in combination with Tzalam wood; the chair preserves the natural process of this beautiful technique but offers comfort and esthetics at the same time. An industrial process can also be translated into something more personal and unique, that's what Nasa Chair V2 stands for. 
I believe we need to turn back and use our roots, traditions and handcraft skills in order to create new shapes and stories that represent us; it's our identity and we must be proud of it.
Nasa Chair V2 was developed in collaboration with Ceferino Palm weber handcraft man from Guadalajara, Jalisco.